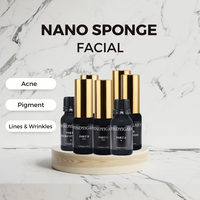 Are you prepared to embrace a rejuvenated, radiant, and revitalized complexion? Our Nano Sponge Facial is your all-in-one solution for addressing hyperpigmentation, acne, scars, fine lines, and wrinkles.
Featuring a staggering 3,000,000 sea sponge particles, our Nano Sponge Facial offers a controlled and gentle exfoliation experience. When this 100% Natural Sea Sponge is delicately massaged onto your skin, it penetrates the epidermis, effectively loosening the connection between the uppermost skin layer and the underlying layers. As a result, your skin undergoes a gentle shedding process.
During this transformative journey, any discoloration issues like hyperpigmentation, age spots, or scars that reside on the skin's surface gradually lift away, unveiling a fresh, healthy, and luminous skin canvas. Beyond refining skin tone, this shedding process also works wonders for texture, rendering your skin visibly smoother and reducing the appearance of wrinkles and lines. Even the often-dreaded acne scar "pitting" becomes less prominent.
Our Nano Sponge Facial leverages the body's natural scar-healing response to enhance cell renewal, stimulate collagen production, and boost skin metabolism and collagen regeneration. This multi-pronged approach enables us to address a variety of skin concerns within a single facial treatment.
- Pigmentation Concerns
- Acne
- Scarring
- Fine Lines & Wrinkles
- Rejuvenate dull or tired looking skin
- Brighten Hyperpigmentation
- Reduce The Appearance Of fine lines and wrinkles
- Reduce The Appearance Of  Scarring
- Promote an even texture and complexion