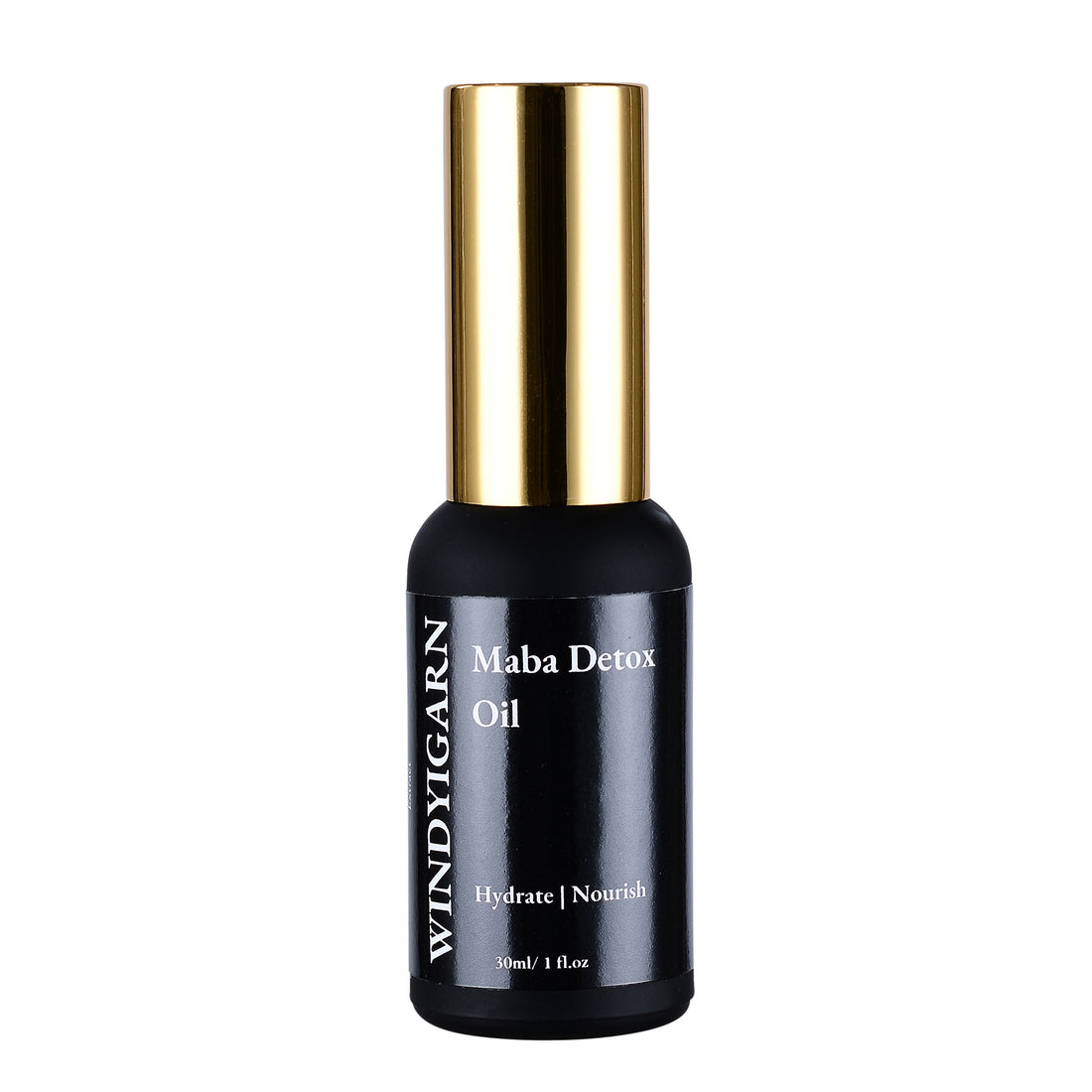 A 100% lightweight, natural elixir designed to make your skin radiate with a captivating glow. Packed with a luxurious array of potent antioxidants, this beauty secret revitalizes your skin from within.
Experience the magic of a non-greasy formula, carefully crafted with skin-loving oils that deliver optimal hydration, fortifying your skin's defences against free radicals and the premature aging process. Unlock the secret to nourished and luminous skin with our remarkable Maba Detox Oil, a testament to the power of nature's beauty-enhancing embrace.
✔️ Glides over the skin for easy penetration
✔️ Soothes & Nourishes
✔️ Repairs & Protects
- Chia Seed is a nutrient powerhouse for your skin. Packed full of protein, Vitamins E,B1,B2 & B3, minerals and Omega 3 Fatty Acids, this beauty helps reduce the signs of aging, reduce acne scars, boosts elasticity and provides a glowing and smooth complexion
- Seabuckthorn helps to fade discolouration and promotes an even texture. This beauty is high in antioxidants, unsaturated fat,phytosterols, carotenoids, and vitamins E and K. All of these components protect your skin whilst promoting skin renewal
- Avocado Oil calms and soothes skin, hydrates and protects skin against damage
Formulated Without:  Parabens, Sulphates SLS and SLES, Phthalates and Mineral Oils.
Jojoba Oil holds anti-inflammatory properties that help soothe skin, reduce redness and maintain skin moisture
Vitamin E to protect, repair and hydrate skin

Chamomile holds powerful anti-oxidants including polyphenols and phytochemicals which help reduce signs of aging by protecting the skin from free radical damage. It accelerates cell and tissue renewal, reducing the appearance of fine lines and giving skin a youthful glow.
✔️ Glides over the skin for easy penetration
✔️ Soothes & Nourishes
✔️ Repairs & Protects
Prunis Amygdalus Dulcis Oil, Simmondsia Chinensis Seed Oil, Olea Europaea Fruit Oil, Hippophae Rhamnoides Kernel Extract, Persea Gratissima Oil, Salvia Hispanica Seed Oil, Tocopherol (Vitamin E), Glycine Soja Oil, Lavandula Angustifolia Oil, Boswellia Carterii Oil, Cymbopogon Martini Oil , Pelargonium Roseum Leaf Oil, Cananga Odorata Flower Oil, Anthemis Nobilis Flower Oil, Rosmarinus Officinalis Leaf Extract
Suited to all skin types. Especially beneficial for dry, unbalanced or problematic skin.
Twice Daily : Cleanse face and once dry apply a few drops of oil to your face. Massage in using circular motions, whilst avoiding eye area. One absorbed, follow with moisturiser and then sunscreen.
What Is It Good For?
This beauty is effective for people who have dull, polluted, hyperpigmented or discoloured skin. Our active ingredients act to purge skin of toxins, pollution and bacteria. Our brightening ingredients target acne, scarring, hyperpigmentation, redness and discolouration to brighten your entire complexion. Espeically good for acne prone or problematic skin.